What is Play Therapy and how does it work
What is Play Therapy and how does it work
Play therapy is one of the forms of psychotherapy or counseling, which assesses, trea
ts, and prevents psychosocial challenges through play with toys. Typically, play therapy is used with children. However, in some cases, adults can benefit from it as well.
What are the benefits of play therapy?
Play therapy used to have a lot of critics, who questioned the method because from the outside, it only seemed like playing with toys. However, in recent years, research has shown that play therapy has a wide variety of benefits to offer. Children with behavioral disorders and mental health issues have benefited from play therapy and in general, it's a good way for children to express complex and negative thoughts and feelings. Children don't have the verbal and cognitive skills needed to talk about complex issues like grief. However, if given the opportunity, they'll act their feelings out through play with toys. For instance, a child who encounters domestic violence regularly may use a toy to depict the child's mental state. Play therapy is conducted by skilled and experienced therapists who intervene during sessions to help children resolve specific issues. All in all, play therapy may have the following benefits for your child:
Cultivation of respect and empathy

Identifying emotions and expressing them in a healthy manner

Developing self-efficacy, which leads to greater assurance and confidence regarding one's abilities

Learning social skills

Improving interpersonal skills

Learning to be more responsible for one's behavior

Improving problem-solving skills
Types of play therapy and the issues they address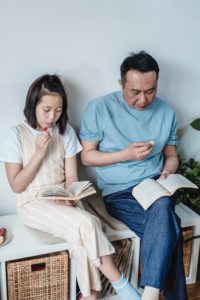 Play therapy has various forms, and typically, therapists use a combination of these forms to address a child's specific needs:
Bibliotherapy:

Bibliotherapy involves the child reading books along with the therapist to explore specific skills or concepts.

Cognitive behavioral play therapy:

Cognitive behavioral play therapy is similar to cognitive behavioral therapy (CBT), which is a type of talk therapy that aims to change individuals' ways of thinking and behaving. This is helpful for children in terms of identifying negative thought patterns and responding to them in an effective way.

Filial therapy:

In today's times, there are many households where both parents are working full-time jobs. In such a scenario, it's likely that a communication gap is developed between the parents and their children. Through filial therapy, therapists attempt to bridge this communication gap by teaching parents all the ways through which they can interact with their children through play.

Imaginary play:

Imaginary play is a stimulatory form of play therapy whose aim is to spark a child's imagination. In this form of play therapy, the child may be given clothing to dress up as their favorite superheroes.

Sand tray therapy:

Sand tray therapy allows children to recreate scenes from their own lives to remove obstacles and resolve conflicts. It features a sand tray on which the child can recreate scenes using miniature toys.
There are two approaches that therapists pick from when conducting play therapies – directive or non-directive. The directive approach involves the therapist being an active participant in the play. Typically, in this approach, the therapist acts as a guide and helps the child to address a pre-determined goal. The non-directive approach is regarded as a form of psychodynamic therapy, and it involves the therapist giving total freedom to the child. This approach is based on the premise that when children are given the freedom to find solutions to address their issues, they will.
While play therapy can be effective for managing and/or treating a wide range of conditions, it's most commonly used for the following:
Aggression

Attention deficit hyperactivity disorder (ADHD)

Anxiety disorders

Anger management

Depression

Autism spectrum disorder

Loss and grief

Divorce of parents

Learning disabilities

Physical disabilities

Crisis and trauma

Social and school-related issues
There are also some tools that are commonly used by therapists to conduct play therapies, such as art supplies, action figures, musical toys, animal figurines, dollhouses, toy cars, and sand trays.
Types of sessions and family involvement
The therapist may either recommend one-on-one sessions or group sessions. This recommendation will depend on the therapist's assessment of your child. For example, if your child feels awkward in social situations, one-on-one sessions would be recommended initially. However, if the child grows more confident after a few sessions, a group session may be recommended by the therapist. Typically, each session is 30 – 50 minutes long. Therapists are typically flexible in terms of scheduling sessions. This too is dependent on what your child needs. For instance, if the issues are severe, two sessions may be scheduled each week. The therapist will also determine how much the child's family should be involved in the sessions. Even if parents are restricted from attending sessions, the therapist will follow up with them after every session to let them know about their child's progress.     As play therapy, like cognitive behavioral therapy (CBT) is psychotherapy, its expenses will be covered by health insurance packages such as Humana and Kaiser Medicare. Therapists across Aurora, Littleton, and Arvada accept health insurance claims from these packages, even for online therapy. Click the link to find Play Therapist https://www.ale.staging.westsidebehavioralcare.com/therapist/specialty/play-therapy/