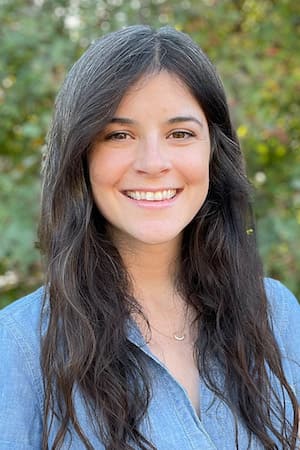 Whitney Lentz -
LPC


Whitney works to make the therapy process approachable, supportive, safe, and insightful.
Whitney Lentz Has Limited Availability
To connect with Whitney Lentz, please contact our scheduling team at info@westsidebehavioral.com any time.
Hi, I'm Whitney Lentz. I specialize in anxiety, depression, intuitive eating, body image, life transitions, communication in relationships, and overall wellness as a Licensed Professional Counselor and Registered Yoga Teacher. I'm licensed in Colorado and Texas.
I love helping clients sort through emotions, change unhelpful and self-defeating thoughts, develop new perspectives, and learn how to cultivate healthy relationships with themselves, others, food, life, and more.
Common therapy topics include shame and perfectionism, self-doubt and self-criticism, overthinking, boundaries, dating and commitment, values, spirituality, mindfulness, breathwork, self-care, effective coping skills, self-acceptance, and goals for behavior change.
I have a calm, relatable style and am passionate about growth, healing, and helping others find joy, peace, and fulfillment. With a sense of humor and a ton of compassion, I work to make the therapy process approachable, supportive, safe, and insightful. Counseling provides a set time and space for you to get support and invest in yourself because "you can't pour from an empty cup." When we struggle to show up in our lives the way we desire, chances are something is out of alignment. It's normal burn out, struggle, or suffer when we are not getting our own needs met.
I utilize a variety of modalities including Acceptance and Commitment Therapy, Cognitive Behavior Therapy, Dialectical Behavioral Therapy, and Person-Centered Therapy. I am commitment to my own personal growth and love sharing references from Brene Brown, Kristen Neff, the Enneagram, and many of my favorite counseling resources. I completed my master's degree in Counseling at The University of North Texas in 2013 and have worked in a variety of settings including multi-level treatment for eating disorders, higher education and private practice.
Reaching out can be tough, I hope to provide a comfortable and safe place for that step to land. I align with health at every size, LGBTQ-inclusivity, and have completed trauma sensitive training. I offer face to face counseling in Denver, telehealth services in Texas & Colorado, and life coaching online. I would love to hear from you!
Kaiser Approved Therapist
Whitney Lentz has been credentialed as an in-network Kaiser Permanente provider. Westside will be able to bill your Colorado Kaiser Permanente plan for the mental health services provided.
Verify active Kaiser status
Insurance Accepted
Client Age
Locations
Online Therapy Session

No Physical Location, CO
Online Therapy
Whitney Lentz offers online therapy sessions through scheduled appointments. All Westside providers have access to HIPAA compliant and secure teleconferencing software to protect client privacy. Instructions to access a scheduled session will be sent directly by the provider leading up to the appointment.
Degrees & Licenses