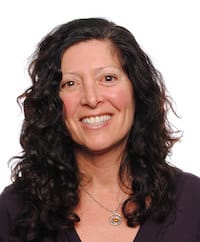 Theresa Palermo

LCSW


Theresa is committed to helping individuals overcome obstacles and deal with grief, adversity, and trauma.
Theresa Palermo Has Limited Availability
To connect with Theresa Palermo, please contact our scheduling team at info@westsidebehavioral.com any time.
Theresa Palermo earned her Bachelors Degree from the University of Maryland in College Park in 1988. Afterwards, she spent several years working at Chestnut Lodge inpatient Psychiatric hospital in Rockville, Maryland before continuing on to graduate school. Theresa attended Smith College School for Social Work in Northampton Massachusetts and earned a Masters Degree in Clinical Social Work in 1993.
After completing her graduate studies, Theresa moved to Colorado where she began her career as a therapist working in a variety of settings before settling into her own private practice in 2006. In her practice, she is committed to helping individuals of all ages overcome obstacles and deal with grief, loss, adversity, change, mental illness and trauma. Areas of experience and specialty include, anxiety, depression, trauma, adoption, grief and loss, divorce, parenting issues, parent/child conflict, behavior issues, social and emotional issues, adjustment issues and stress management. Theresa is an expert in assisting people to integrate the challenging experiences they encounter in a way that allows them to reach a new level in their lives.
Theresa has worked with children of all ages, teens and adults in every phase of life. She has training in various therapeutic, modalities including, AEDP (Accelerated Dynamic Experiential Processing), DDP (Dyadic Developmental Processing), EMDR (Eye Movement Desensitization Processing) , Brainspotting, Family Therapy, Play Therapy, Solutions Focused Brief Therapy, CBT (Cognitive Behavioral Therapy), DBT (Dialectical Behavioral Therapy) and Motivational Interviewing. Her way of working with clients is very experiential and relational, making use of the moment to moment interactions that are happening in the present moment to allow people to heal from the past and transform themselves and their lives.
When she is not working, Theresa enjoys spending time with her family and friends, reading, engaging in various creative endeavors, spending time outdoors engaging in activities such as gardening, walking, hiking, running and playing Pickleball.
Insurance Accepted
Client Age
Locations
Online Therapy Session

No Physical Address, CO
Online Therapy
Theresa Palermo offers online therapy sessions through scheduled appointments. All Westside providers have access to HIPAA compliant and secure teleconferencing software to protect client privacy. Instructions to access a scheduled session will be sent directly by the provider leading up to the appointment.
Degrees & Licenses