Rachel Moore - LCSW
Rachel believes that each client has the answers within and guides them to their own healing and growth.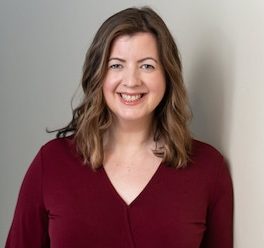 If changing were easy, we'd all do it when we need to. Participating in therapy is a decision to make changes that make life better, and that takes courage. It is my pleasure and my honor to support clients step into courageous change as they create a new way of being in the world.
I work from a positive person-centered, strengths-based perspective. I believe that each client has the answers within and that my role is to facilitate and guide them to their own healing and growth. The work is deep so that we can get at the root causes of problems, healing is focused on resolving old wounds and traumas, and looking forward invites hope, humor and play into the process so that the mind, heart and body can re-set in a new direction.
Some of the common reasons my clients reach out to me for therapy include stress, life balance concerns, anxiety, trauma, phobias, struggles with confidence and feelings of self-acceptance, infertility, parenting, and relationship problems.
Clients come to see me who are motivated for observable results and they want a clinician with a positive approach to guide meaningful changes.
Modalities I employ in our work include Cognitive Behavior Therapy (CBT), EMDR, Gradual Exposure Therapy, Trauma Resolution Therapies, Somatic Therapy, Evidence-Based Cognitive Hypnotherapy, Motivational Interviewing, and Behavioral Activation Therapy, All therapy is individualized to you, your preferences, and your goals.
After receiving my master's degree in social work from the University of Washington in 2005, I spent the next 5 years engaging in further study to gain the licensure qualification to become a licensed clinical therapist. Since then I have worked with clients in the US as well as England, Europe, Canada and Australia in personal change work. In addition to being a therapist. I also facilitate workshops and trainings focused on well-being. When not working I love to hike, kayak, spend time with loved ones, and drink oat milk lattes!
Rachel Moore Has Limited Availability
To connect with Rachel Moore, please contact our scheduling team at info@westsidebehavioral.com any time.
Kaiser Approved Therapist
Rachel Moore has been credentialed as an in-network Kaiser Permanente provider. Westside will be able to bill your Colorado Kaiser Permanente plan for the mental health services provided.
Verify active Kaiser status
Insurance Accepted
Client Age
Locations
Online Therapy Sessions

No physical location, CO
Online Therapy
Rachel Moore offers online therapy sessions through scheduled appointments. All Westside providers have access to HIPAA compliant and secure teleconferencing software to protect client privacy. Instructions to access a scheduled session will be sent directly by the provider leading up to the appointment.
Degrees & Licenses