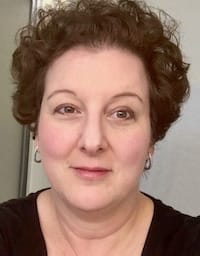 Lisa Volk

LMFT / MS


Lisa is trained to work from a systems perspective, using brief, solution-focused therapy and Cognitive Behavioral Therapy.
Lisa Volk Has Limited Availability
To connect with Lisa Volk, please contact our scheduling team at info@westsidebehavioral.com any time.
I have experience working with families, (blended, or otherwise), with partial families (say, an adult child & parents, or siblings, etc.), with couples (heterosexual and same sex), with adolescents, and with individuals. I have familiarity with various cultures, particularly Asian, South Pacific Islanders, Middle Eastern, African American, and Hispanic. I am trained to work from a systems perspective, using brief, solution-focused therapy and Cognitive Behavioral Therapy, but am well versed in other therapy modalities as well.
My Masters Psychology (Marriage and Family Track) education, early training (1995-1998) & subsequent work (1998-2001) took place in The San Francisco Bay Area, where I worked with people from many diverse cultures, as well as immigrants from all over the world. My very earliest work took place in the North Bay (Marin County) at a drug treatment facility, working with folks addicted to heroin. I then moved to working in South San Francisco at a family treatment center, specializing in providing therapy to families who had been mandated into therapy, by either the Juvenile Justice System or the Education System. During my time at that agency, I also provided counseling on various school campuses, including an elementary school and an alternative high school. I worked on the high school campus with teen mothers (at risk) and their children, who were provided with daycare on site while their mothers completed their high school education.
Although I am nearing 20 years of experience in this field, this is a second career; I previously worked in both the construction & hospitality industries (from the age of 14) as an accountant, so I also have extensive knowledge of the business world and the inner workings of companies large and small. I have always considered my client(s) to be fully collaborative partners in the process of therapy. You, the client, are in charge of the content of the session, while I am there to help guide you, and to provide the safety zone for the story to be told.
I moved to Colorado in mid- 2001, and, transferring the required data from California, obtained my Colorado license as a Marriage and Family Therapist in 2002. Subsequently finding work as an Individual therapist at Aurora Mental Health Center, I maintained a caseload of 120 individual clients with varying levels of mental health issue severity. From Paranoid Schizophrenia & Bipolar Disorder w/Psychosis to Adjustment Disorder (such as grief), I worked with Medicaid, Medicare, the Uninsured and Insured alike, until starting a private practice several years ago. Added to my work with families, this work rounded out my experience in the field to the point where I felt I could confidently go into the private sector.
Insurance Accepted
Client Age
Locations
7000 E. Belleview Ave Suite 203

Greenwood Village, CO 80111
Online Therapy
Lisa Volk offers online therapy sessions through scheduled appointments. All Westside providers have access to HIPAA compliant and secure teleconferencing software to protect client privacy. Instructions to access a scheduled session will be sent directly by the provider leading up to the appointment.
Degrees & Licenses