Lauren Rivas - LPC
Lauren commits to listening to you attentively, collaborating with you, and encouraging you with the utmost respect, dignity, and care.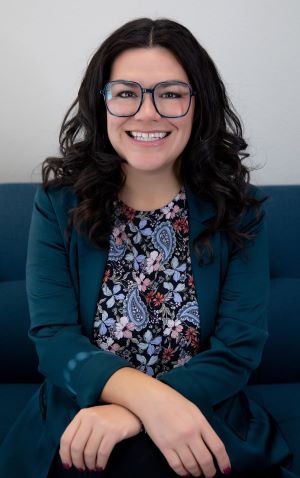 Hello, my name is Lauren Rivas, and I am a Licensed Professional Counselor with over 12 years of professional experience. First and foremost, seeking help is vulnerable yet brave. I respect your choice to reach out for assistance in overcoming your current obstacle, whatever it may be. I hope to provide you with a safe, warm, and empathic space, meet you halfway, and individualize your care. I commit to listening to you attentively, collaborating with you, and encouraging you with the utmost respect, dignity, and care.
You are the expert on your thoughts, feelings, and behaviors. While respecting that, I can also assist you in identifying thinking errors and insights you might not recognize and provide an additional perspective, realizations, and tools. The goal is to become a happier, healthier, and more fulfilled person for yourself and others.
I received my bachelor's degree in Psychology from Regis University in Denver, Colorado, and a master's degree in Forensic Psychology from John Jay College in New York City. For the previous 12 years, I have provided therapeutic, evaluative, and counseling services to a multitude of persons, both with acute and severe symptomology, as well as more pervasive behavioral changes. I have worked in both inpatient, correctional, and outpatient care. I believe in the resilience of humans and the power of change, no matter how hopeless or helpless they might feel.
I specialize in life transitions, anxiety, depression, grief and loss, bereavement, anger management, guilt, shame, family conflict, sexual trauma, domestic violence, relationship issues, PTSD, mental illness, compassion fatigue, and childhood and emotional disorders. I employ a multitude of therapeutic perspectives and modalities, with an emphasis on Cognitive Behavioral Therapy, Dialectical Behavioral Therapy, Motivational Interviewing, Trauma-Informed Care, and Solution Focused Therapy, which I believe assists a client's willingness to make the changes they want, as well as empowers them to make future changes and overcome adversities with their learned tools.
Thank you for entrusting me on your journey.
Lauren Rivas Has Limited Availability
To connect with Lauren Rivas, please contact our scheduling team at info@westsidebehavioral.com any time.
Insurance Accepted
Client Age
Locations
Online Therapy Session

No Physical Location, CO
Online Therapy
Lauren Rivas offers online therapy sessions through scheduled appointments. All Westside providers have access to HIPAA compliant and secure teleconferencing software to protect client privacy. Instructions to access a scheduled session will be sent directly by the provider leading up to the appointment.
Degrees & Licenses