Lauren Lamas - LCSW
Lauren seeks to ensure there is a balance between therapeutic self-exploration and real-life safety planning and intervention.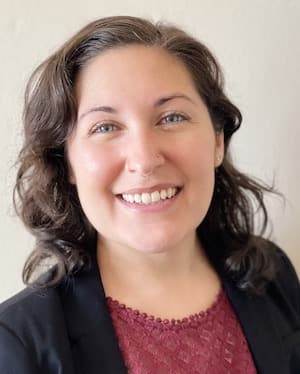 My approach to therapy begins with warmth, empathy and openness. I welcome people from all walks of life and with a variety of experiences, traumas, and difficulties they would like to address in therapy. Through frequent check-ins and opportunities for feedback, I encourage clients to lead the therapeutic process and communicate what's most important to them, what they are interested in learning, what's working and what is not working.
A common reason that clients seek therapy is assistance with processing distressing experiences and emotions. My most important task with these (and all) clients is normalizing and validating these emotions as part of the human experience and teaching skills that increase awareness, tolerance and integration of these emotions. I also enjoy being a companion in self-exploration. This typically includes connecting thought, emotion and behavioral patterns to adverse experiences from both childhood and adulthood and providing tools for further awareness and integration. It is an honor to witness clients as they develop a relationship with their inner world and reconnect to their intuition and values.
I seek to ensure there is a balance between therapeutic self-exploration and real-life safety planning and intervention. These safety planning and intervention strategies can look like naming harmful behavior, providing education on intimate partner violence and other types of abuse and oppression, clarifying barriers to social, emotional and physical safety, connection to community resources and practicing empowerment-based skills like boundary-setting and assertive communication.
It is my hope that my clients come away from our time together with not only a deeper understanding of themselves but with tools that they can continue to use and build on throughout their lives.
Lauren Lamas Has Limited Availability
To connect with Lauren Lamas, please contact our scheduling team at info@westsidebehavioral.com any time.
Insurance Accepted
Client Age
Locations
Online Therapy Session

No Physical Location, CO
Online Therapy
Lauren Lamas offers online therapy sessions through scheduled appointments. All Westside providers have access to HIPAA compliant and secure teleconferencing software to protect client privacy. Instructions to access a scheduled session will be sent directly by the provider leading up to the appointment.
Degrees & Licenses