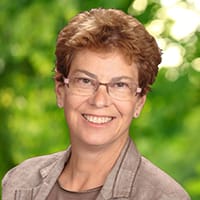 Karen Hauser -
LCSW


Karen has been a LCSW since 1980 and specializes in marriage therapy and cognitive behavioral therapy.
Karen Hauser Has Limited Availability
To connect with Karen Hauser, please contact our scheduling team at info@westsidebehavioral.com any time.
Karen Hauser is a licensed Denver therapist and clinical social worker (LCSW). She is a highly valued, clinical therapist with Westside Behavioral Care and has been with us for many years. In addition to her extensive background in therapy, Karen cares very deeply about her clients and works very hard to assist them.
Karen has been licensed as a clinical social worker since 1980, when she received her master's of social work from University of Denver. She has been in private practice since 1997. She holds post-graduate certifications in family therapy, gerontology and critical incident stress debriefings. She has worked in a variety of clinical settings, primarily with adults and couples, including mental health, adoptions, employee assistance programs, hospitals, home health and sudden infant death syndrome. She has also worked extensively with the military both at Fitzsimmons army medical center and as a military and family life consultant. This involved working on military bases with soldiers and their families. Issues dealt with included deployment, re-integration depression, anxiety , anger and communication, among other military and military-life challenges.
Karen works with adults, older adults and couples, and has a strong background working with military veterans and their families. She enjoys helping people grow and develop, and to work through issues that are creating obstacles to their personal and professional growth. She specializes in a variety of clinical areas such as marriage therapy and cognitive behavioral therapy.
Karen utilizes various therapy modalities with her clients. In addition to cognitive behavioral therapy, these include client centered therapy, psychodynamic therapy, solution focused therapy and problem solving therapy.
Karen also specializes in a variety of clinical areas including grief and loss, trauma, depression, anxiety and relationship issues; however, Karen considers herself to be a generalist and works with men, women and couples on many issues.
Karen enjoys helping people develop both personally and professionally through the process of therapy, both long term and short term.
Kaiser Approved Therapist
Karen Hauser has been credentialed as an in-network Kaiser Permanente provider. Westside will be able to bill your Colorado Kaiser Permanente plan for the mental health services provided.
Verify active Kaiser status
Insurance Accepted
Client Age
Locations
6795 E. Tennessee Ave Suite 408

Denver, CO 80224

303-986-4197
Online Therapy
Karen Hauser offers online therapy sessions through scheduled appointments. All Westside providers have access to HIPAA compliant and secure teleconferencing software to protect client privacy. Instructions to access a scheduled session will be sent directly by the provider leading up to the appointment.
Degrees & Licenses