Gretchen Flores - LPC
- Offers sessions in-person and online
Gretchen is not accepting new male clients at this time.
Gretchen has 20 years of counseling experience.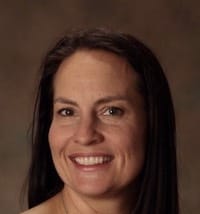 I am a psychotherapist who specializes in women's issues. With 20 years of experience in the field of counseling, I utilize my skillset to assist clients in their efforts to work through current challenges. I rely primarily on Cognitive Behavioral Therapy techniques, Acceptance and Commitment Therapy, Insight oriented therapy and EMDR (Eye Movement Desensitization and Reprocessing) methods. I graduated from Western Michigan University in 1996 with a degree in counseling. I started out working in addictions for 4 years and later branched out to work in a private practice setting working with adults, teens, and children. I currently specialize in women's issues. I enjoy helping women find their voice, recover from traumas, develop healthier relationships, and gain skills for coping with stress.
I assist clients in healthy boundary setting and communication skills, relaxation and deep breathing skills, and grounding methods to cope with distress.
I gained my clinical counseling license in the state of Illinois and maintain that license which requires continuing education credits every two years. As a result I have gained a wealth of insight for helping clients with various challenges.
I spend a lot of time researching nutrition and have taken Continuing Education courses on nutrition and mental health. If you feel that you want to address your mental and emotional health with nutrition and supplementation I will support your efforts. I do not recommend discontinuing medication without medical help, you can certainly take medication and supplement with good nutrition at the same time.
I enjoy multicultural counseling and have a great appreciation for various cultures and diversity. I do my best to understand your culture and how you view life through that lens as we work together.
I view counseling as a team approach. We work together to find solutions, and develop insight into current issues. At times we will focus on the, "here and now" in therapy which is a focus on the present tense. At other times, we may dip into the past to gain insight into how prior experiences have impacted your identity, and the development of beliefs that might be hindering you in the present tense. In my spare time I enjoy time outdoors or reading my favorite books.
Gretchen Flores Has Limited Availability
To connect with Gretchen Flores, please contact our scheduling team at info@westsidebehavioral.com any time.
Kaiser Approved Therapist
Gretchen Flores has been credentialed as an in-network Kaiser Permanente provider. Westside will be able to bill your Colorado Kaiser Permanente plan for the mental health services provided.
Verify active Kaiser status
Insurance Accepted
Client Age
Locations
13791 E. Rice Place

Aurora, CO 80015
Online Therapy
Gretchen Flores offers online therapy sessions through scheduled appointments. All Westside providers have access to HIPAA compliant and secure teleconferencing software to protect client privacy. Instructions to access a scheduled session will be sent directly by the provider leading up to the appointment.
Degrees & Licenses