Cameron James - LCSW
In his nearly 10 years of practice, Cameron has worked with a variety of behaviors and issues.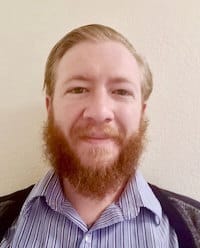 Cameron James is a Licensed Clinical Social Worker who has worked with children and adolescents in nearly every level of care across New Mexico and Colorado; from school-based clinical services to intensive in-home family therapy to in-patient psychiatric care. He uses these experiences at Forward Family Therapy to help guide understanding and appropriate treatment approaches with struggling children and their families.
Cameron graduated from New Mexico State University with a Master's Degree in Social Work focusing his studies towards supporting at-risk children and adolescents.  Later, he trained in Multi-Systemic Therapy where he learned the core aspects of his current practice.  Work collaboratively with clients and families, utilize supports and stake holders, and make realistic plans of action in order to have successful and sustainable treatment.  In addition, Cameron is passionate that communication and motivation are necessary parts of quality treatment, and he works diligently with clients and their families on both of these factors.  In addition, willingness is the single largest impact to successful treatment, and it's where Cameron focuses in his initial developmental in the therapeutic relationship.  Collaborating with the client and family to ensure those participating in treatment are active and engaged on priority goals.
In his nearly 10 years of practice, Cameron has worked with a variety of behaviors and issues.  He has been successful assisting clients in overcoming anxiety/depression symptoms, trauma/abuse symptoms, ADHD traits, and behavioral issues, such as defiance and avoidance.
In addition to the clients he sees at Forward Family Therapy, Cameron also practices school-based therapy services in Adams School District 27J, working at both an elementary and middle school.  Cameron is passionate about supporting children/adolescents and their families.  He is continually shaping his practice with new and engaging ways to approach learning and practicing skills, such as using graphic novels, card/board games, and expressive art and play techniques.
Cameron James Has Limited Availability
To connect with Cameron James, please contact our scheduling team at info@westsidebehavioral.com any time.
Kaiser Approved Therapist
Cameron James has been credentialed as an in-network Kaiser Permanente provider. Westside will be able to bill your Colorado Kaiser Permanente plan for the mental health services provided.
Verify active Kaiser status
Insurance Accepted
Client Age
Locations
2095 W 6th Ave

Broomfield, CO 80020
Degrees & Licenses